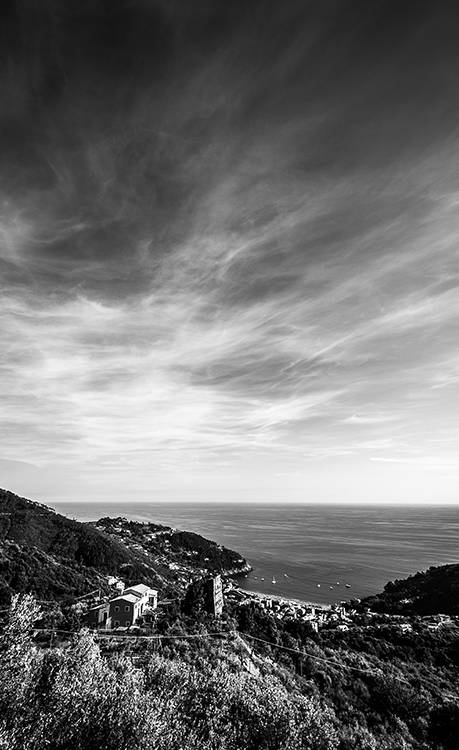 The landscaping frame enveloping Cà du Ferrà consists of charming sites. Starting from the Bonassola village, a shining example/gem of Ligurian architecture with its pastel-coloured houses and caruggi (narrow streets) fragrant with the perfume of freshly baked focaccia, up to Levanto sunny hills. From the terracing decreasing towards vertical sceneries, to the very own Riomaggiore and Vernazza alleys, getting the tourists from all over the world drunk with their perpetual up and down patter, using sea glimpses as the only guiding compass.
Cà du Ferrà resides here. And just like its vineyards, it faces the sea: the Mediterranean. A clear, light blue surface, where the sun's reflection is so intense that one could be easly dazzled. And it is also the place where, in the brightest days, inquiring eyes can recognize Corsica, Capraia and Gorgona islands outer points, and sometimes, another outline: Elba Island.
Looking right, the Maritime Alps snow-covered peaks stand out against the sky, along occasionally with the Monviso summit, on the other hand, looking left, the sea brushes the Versilia coastline while your stare reaches Punta Ala.  Furthermore, if the weather is clear, one can spot Livorno's shoreline too.
Cà du Ferrà sits between the "Golfo dei Poeti" and the "Golfo del Tigullio", 35 km far from La Spezia and 50 km from Genoa.
subscribe to our newsletter
Get the latest news and updates