Barbara Tamburini
Enologa
Barbara Tamburini, awarded in the competitions: 'Oscar del Vino Miglior Enologo d'Italia, "Premio Giacomo Tachis 2019",  graduated from Pisa University in 2002 with a second level degree in Viticulture and Oenology after a first level degree in Food Technologies with a focus on Viticulture and Oenology, in 2000.
After various internships in a few Tuscan farms during her studies at university, in 1999 she starts working as a freelance Professional Oenologist including advisory services, growing in number with each passing year, first of all in Tuscany and later on in Umbria, Piedmont, Lombardy, Emilia Romagna and Sicily.
Around that time she crosses paths with Vittorio Fiore, a very experienced worldclass oenologist that she considers a mentor, and with whom she starts a collaboration which is still ongoing at the present day.
Having a strong professional curiosity, she successfully engages in multiple fields from oenology to viticulture, from Sangiovese to Pinot Noir, from Merlot to Nebbiolo and Barbera, including Aleatico, from Vermentino to Pinot Blanc and Ansonica, from Moscato Passito to Vinsanto, holding still to the aim to make recognizable all the company's characteristics and the territorial peculiarities of the wines she takes care, always on the lookout for the greatest quality expressions, keeping in mind the consumer's taste.
Similarly she has never overlooked the market matters, also thanks to her increasing reputation, which allowed her to consolidate a network of valuable connections, both in Italy and abroad, with the leaders of the Italian wine sector supply and trade chains in the world. She has also broadened her contacts in the information industry both in the wine sector press and the mass media industry which rely on her expertise quite often to get high relevance news.
Barbara Tamburini likes to pursue a high profile professional standard,
someone may say she likes to set her dreams high, like on October 29th 2004 when as the 5th woman in the world she boarded an MB339 the famous air-force jet of Frecce Tricolori and she flew over Friuli for an hour with the chief of the demonstration team of the Italian Aeronautica Militare.
Over fifteen companies can count on Barbara Tamburini's competence as their consultant oenologist. What's more, there are over a hundred articles and interviews about her.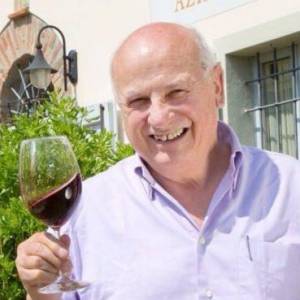 Vittorio Fiore
Enologo
Vittorio Fiore after finishing his technical studies at San Michele all'Adige and Conegliano, completes his first experience abroad (Malta Island), and in the early '60's he starts his professional career path, assisting a few wine-making companies in northern Italy.
In the early '70's he was asked to fill the role of Direttore Generale dell'Associazione Enotecnici Italiani (which is now called Associazione Enologi Enotecnici Italiani) and he remained in charge for a decade, when he decided to move to Tuscany.
He moved to Tuscany in 1979 and started the activity that he self developed as a role in the '60's: the freelance consultant oenologist. This is the way he begins his collaboration with some wine-making companies, which drew inspiration from his experience and take the opportunity to renovate themselves, both in the wine and in the oenological sector. This is the main reason why he is unanimously considered to be the architect of the renovation process and viticulture success in Tuscany, to the point that he often operates as a spokesman for the Governo Regionale regarding the promotion and diffusion of Tuscan wines knowledge in the world.
1992 is the year in which his greatest
dream came true: creating his own winery. In the same year, he bought an estate in Ruffoli,in the Greve in Chianti municipality, called Podere Poggio Scalette, which grew in a few years becoming one of the most prestigious oenological companies of the region both nationwide and internationally.
In 1999 he gets a majority stake of the famous Azienda Agricola Castelluccio di Modigliana (in Romagna) estate, of which he had been a consultant since the very beginning (1979). Vittorio Fiore continues his activity as a consultant for the many and valuable companies that rely on his collaboration.
From 2003 to 2008 he has been a member of Commissione di Appello for DOC and DOCG wines of central Italy within the Ministero delle Politiche Agricole e Forestali.
Since 2014 he is a member of Commissione di Appello for DOC and DOCG wines of southern and insular Italy within the Ministero delle Politiche Agricole e Forestali.
As an Associate Professor, he has been Holder of the chair in the Analisi Sensoriale class for the students graduating in Viticolture and Oenology of the Agricultural Faculty at Pisa University. He speaks English, French and German.